Mhel here, guest posting on my bro's blog as we join the Pasko sa Agosto giveaway caravan along with our fellow bloggers.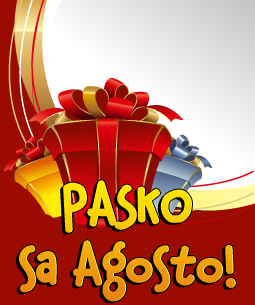 We're cooking up another giveway, by the way, as we formally launch this blog of his with his own layout. Stay tuned for that.
For now, here's your chance to win a Yahoo! Clock that you can proudly display on your walls 'cause it's just super cute.
To join, simply follow these steps.  Napakadali lang! Even non-bloggers can enter. 🙂
There are more generous bloggers participating in this caravan so check out the list after the jump.
Here are the rest of the giveaways in this caravan. Blog hop na! Until August 31st lang pwedeng sumali!
Just Another Pixel's Pasko sa Agosto Giveaway – Win a Yahoo! Wall Clock – My personal blog and I'm giving away the same cute wall clock. 🙂
Certified Foodies' Pasko sa Agosto Giveaway – Win a Celebrations by Sharon Mixes from Maya Gift Pack – Don't forget to also join our anniversary giveaway that's now extended until the end of the month.
Click here for the complete list of giveaways.
If you have something you'd like to give away, then, we suggest you join this caravan. You've got until August 17th! Click here for more info.